Second RUAS Premier Beef and Lamb Championships
The very best of Northern Ireland's prime stock competed for hotly contested Championship titles at Balmoral Park.
John Stephenson Retains Prime Cattle Championship at Skipton
John Stephenson, of Bordley Green Farm, Bordley, was crowned supreme champion for the second year running at Skipton Auction Mart's 12th annual Christmas prime cattle show and sale.
Northern Ireland British Blue Cattle Club Annual Dinner
2019 proved to be an upbeat year for British Blue breeders in NI that closed with a well supported and much enjoy annual dinner in the Temple Golf Club between Carryduff and Ballynahinch, Co Down.
British Blue Newsletter
Would members please note that on page 7 -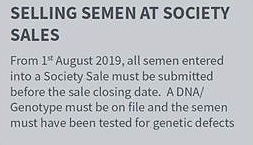 The ruling for testing for genetic defects applies to semen collected after 1st January 2012.