British Blue Cross Takes Tow Law Championship
30th October 2017
British Blue Cross Champion at Hexham "Tow Law" Prize Show and Sale of Suckled Calves & Store Cattle.
Hexham and Northern Marts held their Traditional "Tow Law" Sale for Store Cattle and Suckled Calves on Thursday 26th October 2017.
Overall Champion - WD & B Thompson, East Unthank (British Blue x Heifer)
Taking home the HH Mews Memorial Trophy for the Champion Beast was Eric, Susan and Michael Gowland, Allergill with a tremendous British Blue steer at 23 months which sold at £1300 to Elaine Sedgewick.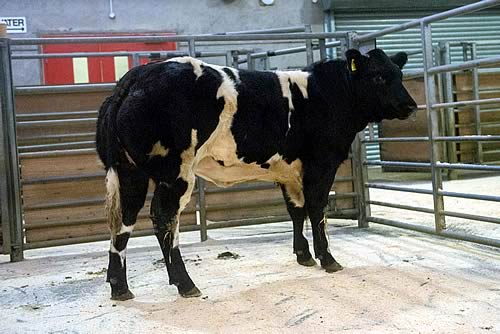 The Champion Calf award went to M/s WD & B Thompson, East Unthank, Haltwhistle. Andrew Thompson was presented with the Perpetual Trophy and the Colin Mitchelson Memorial Plate for being a homebred calf. This fantastic British Blue x heifer at 10 months attracted big interest but was eventually knocked down to an undisclosed telephone bidder for £2000.
Another successful day's trading for all classes. In particular good quality Steer and Heifer calves meeting a very strong demand.
Cattle 23 – 30 Months
British Blue x steers – £1300 Allergill
Cattle 11 – 16 Months
Limousin x steers – £1090 Halton Red House & Allergill, £1080 & £1070 West Biggens, £1040 (x2) & £990 (x2) Rogerley Hall, £985 Allergill, £970 West Biggens, £960 Middle Horsleyhope, £935 The Fawns, £930 Redburn, £920 & £905 The Fawns, £900 West Biggens & Dukesfield Hall (x2), £890 Halton Red House & Dukesfield Hall (x2), £885 & £880 Dukesfield Hall
Limousin x heifers – £1200 Middle Horsleyhope, £1075 & £1060 Allergill, £995 Halton Red House, £965 Rogerley Hall, £960 West Biggens, £940 Allergill, £930 Redburn, £920 Allergill, £915 & £895 Halton Red House, £890 Halton Red House, £880 West Biggens, £875 Allergill, £870 West Biggens, £860 Rogerley Hall
British Blue x steers – £1210 East Unthank, £890 The Fawns
Simmental x steers – £910, £900 & £890 The Fawns
Cattle 10 months and under
Charolais x steers – £880 Baal Hill
Charolais x heifers - £810 Baal Hill
Limousin x steers – £1220 Redburn, £1140 Ricknall Grange, £1080 & £1070 West Biggens, £1060 Allergill, West Biggens & Rookhope, £1040 West Biggens, £1015 Redburn, £1005 Baal Hill & Ricknall Grange, £1000 Baal Hill & Allergill, £965 Baal Hill, £950 West Biggens, £940 & £935 West Mill Hills, £920 West Biggens & Baal Hill, £900 (x2) & £895 (x2) Baal Hill, £890 Kingswood, Baal Hill, West Biggens & Redburn, £885 Mains Rigg, £865 Redburn, £860 Kingswood, Baal Hill & Redburn, £855 Baal Hill, £840 Baal Hill & West Mill Hills
Limousin x heifers – £1290 Redburn, £1095 West Mill Hills, £1085 West Biggens, £1010 & £970 Ricknall Grange, £930 & £925 West Mill Hills, £920 Ricknall Grange & West Biggens, £915 Allergill, £900 Ricknall Grange, £890
Baal Hill, £880 Baal Hill & Ricknall Grange, £870 Redburn, £860 Allergill & Redburn, £850 West Mill Hills, £840 West Biggens, £830 Baal Hill, Allergill, West Biggens & Redburn (x2),
British Blue x steers – £1130 Allergill, £900 The Fawns & Redburn (x2)
British Blue x heifers – £2000 East Unthank, £1040 Redburn
Simmental x steers – £900, £890 (x2) & £870 Baal Hill
Angus x steers – £780 Collierley