British Blue X Reserve Champion at Skipton
Skipton Auction Mart held their Christmas Fatstock Show on Sunday 26th November 2017.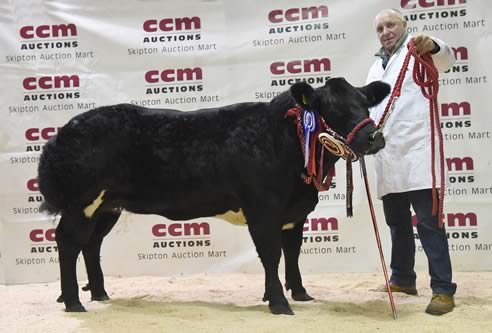 Taking the reserve supreme championship for the third year in succession was local breeder John Stephenson, of Bordley Green Farm, Bordley, with his first prize and reserve champion female British Blue-cross heifer, a 575kg home-bred by a bull acquired six years ago and used with great success on the herd, producing some first-rate show cattle.
The overall runner-up, shown successfully all summer, sold for £2,699, or 469.5p/kg, to Anthony Kitson, owner of Kitson & Sons Butchers, which has three shops in Northallerton, Stockton-on-Tees and Hutton Rudby, and in September launched its brand-new Five Houses Farm Shop and Kitchen in Crathorne.
The Stephenson family prize winners also picked up two special awards for the best home-bred animal and the best beast from a regular CCM vendor.