British Blue Cast Cow Realises £2479
Wednesday 24th January 2018
Harrison & Hetherington's Monday primestock sale at Borderway Mart, Carlisle saw a good show of 373 cast cows and 7 stock bulls on offer to the usual large ring side of 25 buyers.
Mr Greg Jackson, Skelton Wood End sold an outstanding British Blue cow for 1167kg at 212.5p totalling £2479. This cow sired by Gitan Du Pti't Mayeur and out of an Empire D'Ochain daughter.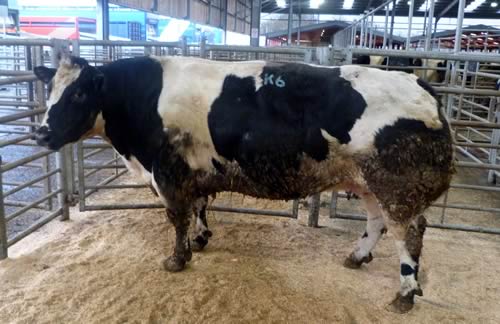 Other leading prices included M/s Boocock & Son, St Lois Farm, York run of cows topped at 945kg, 168p totalling £1592 and 910kg, 169.5p totalling £1542 for two Blue x cows. Kedzlie Farms run of cows topped at 831kg a5t 172.5p totalling £1433 for a Blue cow and 792kg at 177.5p totalling £1405.
Full sale report available: https://harrisonandhetherington.co.uk/sale-reports/borderway-primestock-sale-245/