Blues are Champions at the Royal Ulster Premier Beef and Lamb Championships
24th November 2020
It was a superb day for the British Blues, taking three of the main championships, which were held at the third Royal Ulster Premier Beef and Lamb Championships at Balmoral Park on Tuesday, November 24th.  On the night, sale records were repeatedly smashed with exceptional prices across the board reaffirming this event as the premier show and sale for prime livestock in Northern Ireland.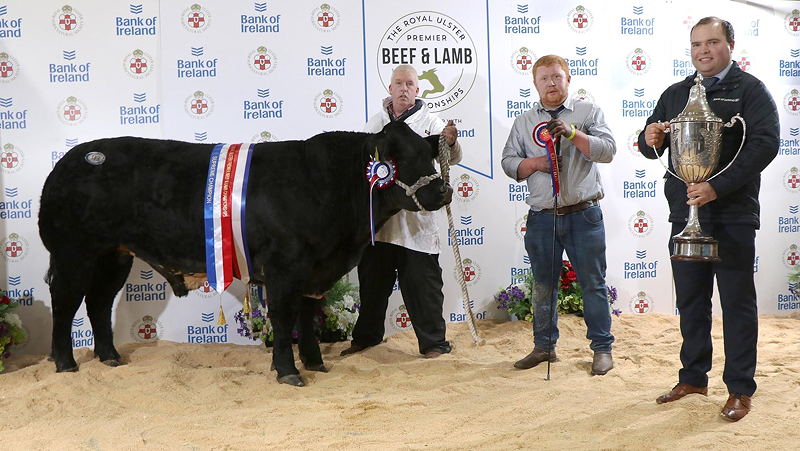 Supreme Champion in the cattle section was a British Blue steer exhibited by Derek and Alan McCrea from Bready.  This family have been great supporters of the former Allams championships, and after trying to secure the top spot for 27 years, they finally hit the the jackpot at this year's event. Weighing 754 kgs, he was purchased by the judge, Mr Anthony Kitson from Crathorne, North Yorkshire at £6100
The Reserve Supreme, another Blue was exhibited by Dermot Small & Blair Dufton. This mighty heifer weighed in at 774kgs and realised a staggering £9200 and was bought by John Kingham on behalf of Tatreeta Farms, Dundalk.
There was a new Championship this year for Breeding Heifers and this was won by James Alexander with yet another Blue, an outstanding heifer, she weighed in at 642kgs and sold for £7100 to Pat Grant from Newry.
All in all, it was a marvellous event, streamed all day live on Utube, it was compelling viewing for those of us that had to stay at home, there wasn't much work done that day! And enormous credit must go to the organisers who had the vision to run it during this pandemic, it lifted our spirits.