NI Blue Club Farm Visits 2010
A highlight of the passing year for NI British Blue Cattle breeders and their customers was a visit to two farms in the Irish Republic supplying suckler calves at 10 months old to Italian finishers.
For the year to come the NI Blue Club looks forward to a February meeting weeks before their spring show and sale in Moira Arena with auctioneer Michael Taaffe taking to the rostrum.
THE BLUE ITALIAN JOB
Cattle exporter Brendan Kelly addressing a NI Blue Cattle Club meeting early in 2010 revealed that the British Blue bull on continental crossbred cows sires the ideal animal for the Italian market.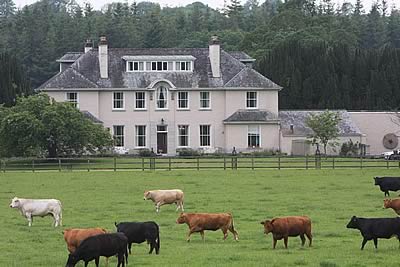 Saunders Grove Farm, Co Wicklow is now home to the Kelly family from Claudy.
A comment reveals Conn Williamson that encouraged Robert Johnston, enthusiastic Blue Club chairman, to arrange a visit to farms in the Irish Republic producing Blue sired calves for export.
"Brendan told us 10 month old bull and heifer calves for the Italian market were difficult to source in Northern Ireland so to satisfy demand he has to buy on the UK mainland," Robert explained.
"On the other hand our southern neighbours grasped this opportunity and export very large numbers to Europe. Clearly Brendan felt Northern Ireland farmers should be encouraged to produce stock suitable for this very profitable market."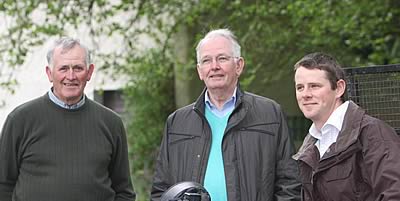 Former RUAS President John Kelly, centre, with brother Eamon and nephew John on their farm in Co Wicklow.
Thus former RUAS President John Kelly was asked to arrange a visit for over 70 beef producers to his brother's farm where stock are produced for export to Italy.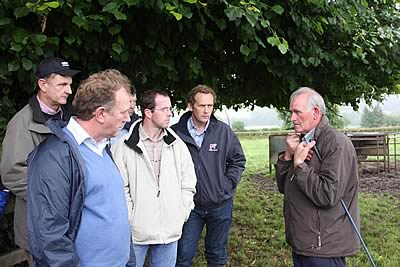 Looking to learn. Former Derry farmer Eamon Kelly, right, deep in discussion with NI farmers visiting Saunders Grove Farm in Co Wicklow.
Eamon and Peggy Kelly, nee Quigg from Kilrea, having moved from their home farm in Claudy Co Londonderry 16 years ago to Saunders Grove Farm on the outskirts of Baltinglass Co Wicklow.
There they started with 75 black heifers, mainly Limousins out of British Friesian cows and put them back to Limousin bulls to spring calve with all stock taken through the finishing.
Unfortunately in 2002 BSE wiped out their herd and the Kellys had to buy in cows with calves at foot plus heifers to get back in business quickly.
Nowadays each year eight or nine replacement heifers are bought in for around 900 euro, ideally three quarter Limousin, which Eamon puts to Belgian Blue bulls.
The herd currently stands at 70 Cows with a tight August/September calving pattern the idea being that when turned out in the spring they can make best use of grass.
Limousin sired cattle were sold to Italy for several years, but when Italian feeders buying stock visited Saunders Grove Farm they persuaded Eamon to change to Belgian Blue bulls.
At first bulls were sourced in Belgium, but since Blue Tongue Disease became a threat heavy, well fleshed local bulls suited to suckler cows are used.
The export trade has proved very profitable for animals leaving the farm each August with payment made immediately after weighing at a local mart.
Welcoming his visitors, including many former Co Derry neighbours from around Claudy, Eamon said that Blue crossbreed bulls weighing around 460 kg and heifers about 420kg averaged 1100 Euros in 2009 at a time when similar suckler calves were costing Irish finishers under 600 Euros a piece.
At Saunders Grove Farm costs are kept to a minimum with Eamon assisted by his son John, who also runs a 300 Ewe Sheep flock, and all seasonal work is carried out by contractors..
NI Blue Club chairman Robert Johnston commenting that, " Nothing is left out on this very successful operation as regards the quality of stock, excellent grassland management and good winter housing with animal welfare ever a top priority.
"Eamon is truly a perfectionist in everything he does and the large parkland grazing paddocks at Saunders Grove filled with cows and exceptionally well muscled Blue sired calves are a sight I will long recall."
FARM PROFILE
Saunders Grove Farm extends to 420 acres with cereals, beef and sheep the main profit centres.
Having sold all calves from the suckler herd to Italy this past four years the Kelly family make herd health a high priority. Stock bought in arrive on the farm six months early to ensure tests for conditions such as BVD can be completed.
The whole herd has TB and Brucellosis tests in early spring, which covers the calves exported to Italy during August. The practical Irish Department of Agriculture seeing no need for further testing before export under EU regulations. An interpretation not shared, it seems, by civil servants in some UK regions such as NI.
The Kellys save only enough grass silage to seal a silo filled with 20 acres of high quality wholecrop silage made with barley that would have yielded 4t an acre if retained for combining. This is sufficient winter feed for the suckler cows and calves over a short southern Irish winter that only starts in the third week of November and ends around the third week of April.
Though Eamon and John are adamant cattle should not be let out until you can really see the grass.
With Italian retail beef prices 50% higher than in the ROI exporting quality stock, sired as the market demands by Irish 'Blues', makes sound business sense say the Kellys.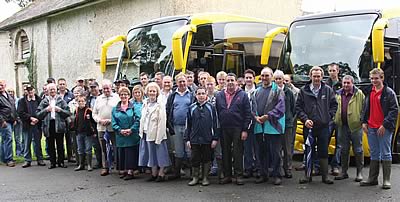 Two coach loads of beef producers enjoyed the NI British Blue Cattle Club excursion to Baltinglass, Co Wicklow.
A view soon shared by the 70 strong party of Ulster beef producers visiting two farms around Baltinglass with the NI Blue Cattle Club. The second farm, owned by former Irish Farmers' Association deputy president Derek Deane and wife Mary, has been in the family since 1668.
Their visitors being highly impressed not only with the new purpose built farmyard, but with Derek's thought provoking views on the way ahead for this island's major industry, food production. Derek referring to swards with red clover as super fodder in the form of turbo charged silage.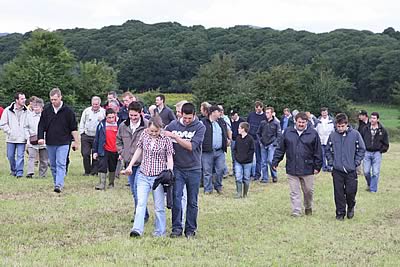 Derek Deane leads the Ulster Blues party across a stubble field on the Wicklow farm in his family since 1668.
The Deanes share a Blue bull with Eamon Kelly for use on their spring calving suckler herd also producing quality stock for the 'Italian Job.'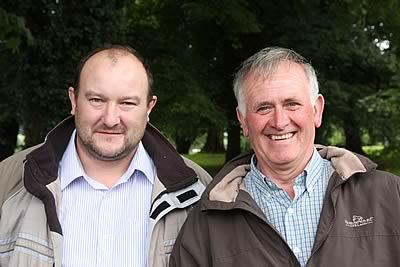 The two Eamon Kellys, from Randalstown, left, and Baltinglass, right, pose for a photograph during the Blue Club outing for beef producers.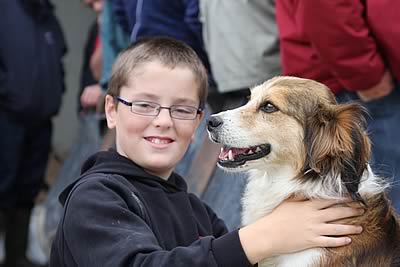 William Harkness from Nutt's Corner, Co Antrim makes friends with the farm collie during 'The Italian Job' outing organised by the NI Blue Club to the Kelly family farm in Co Wicklow.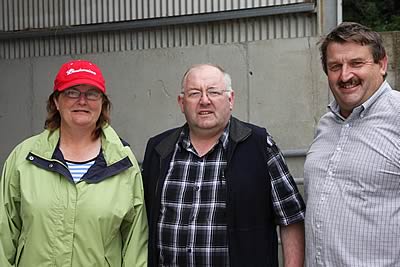 Former Irish Farmers' Association deputy president Derek Deane, right, and wife Mary welcome Robert Johnston, NI Blue Cattle Club chairman. Two coach loads of Ulster beef producers viewed Derek's suckler herd producing calves for Italian finishers and heard his though provoking views on the way ahead in agriculture.