Oliver New Blue Leader
Wednesday 5th February 2020
Oliver McCann, Dromaroad Hill, Castlewellan, Co Down is the new chair of the NI Blue Cattle Breeders Club following a well attended and convivial 2020 AGM.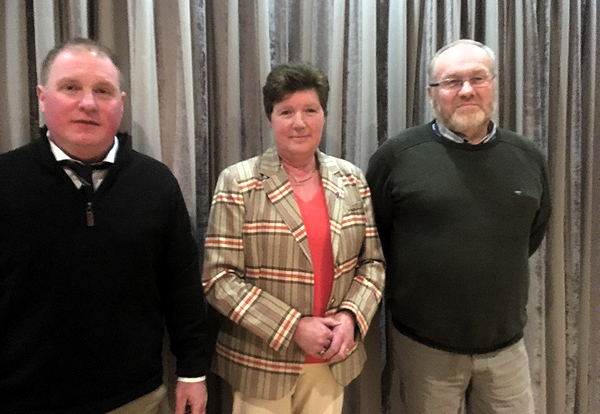 Sam Cleland from Downpatrick is now vice chair with Libby Young, Ballynahinch and Annabel Cleland, Downpatrick retaining the key posts of treasurer and secretary. Stepping down as chair Basil Dougherty from Kircubbin noted that the British Blue remain the ultimate beef terminal sire for adding real value to calves from dairy and suckler herds alike. Value all the more valuable in a challenging time for the beef business.

As he vacated high office Basil was thanked from the floor for this efforts not least in encouraging younger folk in the NI club.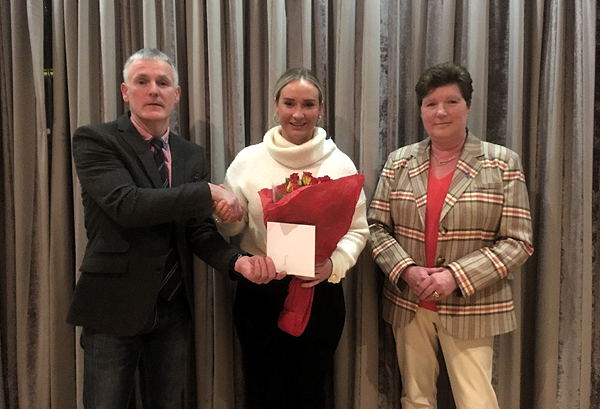 An up beat theme continued by guest speaker Jenny Martin, a daughter of James and Sharon Martin, who farm with her brother Samuel near Newtownards, Co Down. A family famed for their successful Spring Hill British Blue Herd that has won numerous awards including Royal Ulster and Royal Highland championships.

A graduate of Harper Adams Agricultural University, Shropshire Jenny was a delegate to the Royal Agricultural Commonwealth Conference in Singapore.

Jenny explaining that , "From there I journeyed on to get experience of the farm and food sector in New Zealand. An industry now thriving after the tumult of loosing much of its traditional market when the UK joined the then Common Market way back in 1973. That, and an oil crisis the same year and again in 1979, meant NZ had to develop a new marketing strategy.

"One that has seen a massive market gained for quality produce right around the Pacific Rim nations. An area of rapid economic growth. Early attempts to pour government money into supporting the existing structure of the farm and food sector after 1973 seem only to have prolonged the agony for farm businesses, many of which disappeared..

"Only when a new Labour government came to power under David Lange in 1984 was the farm and food sector given the freedom to become more efficient and market driven. No longer hooked on grants and civil service directives some might suggest."

In NZ Jenny worked with impressively efficient grass based NZ Holstein Friesian herds at Taupo near the centre of North Island. A style of farming where stock are rarely housed and winters are not devoted to feeding indoors and spreading slurry!

"Yes, the climate is milder than here with stock staying outside in most areas so not everything done in NZ is applicable back here. Yet there is still much to learn be it about utilising grass or marketing quality produce from a small nation on the world stage!' Jenny suggested.

Later on South Island Jenny saw how a formerly remote and vast sheep station was now a tourist attraction reached by vintage ferry from Queenstown, which is a key part of the tourist trail in NZ. The three main sources of foreign income for NZ are food, forestry and tourists from Asia, the Americas, the EU and to a small extent the UK.

"The Walter High Peak Sheep Station was a prime example of how a farm property can be developed as an asset that is much more than a place where food is produced."

Those interested in breeding British Blue Cattle are urged to contact the NI Blue Club on Mob: 07742 988 674.